Welcome to our 2021 Seed Swap!
Closed to new submissions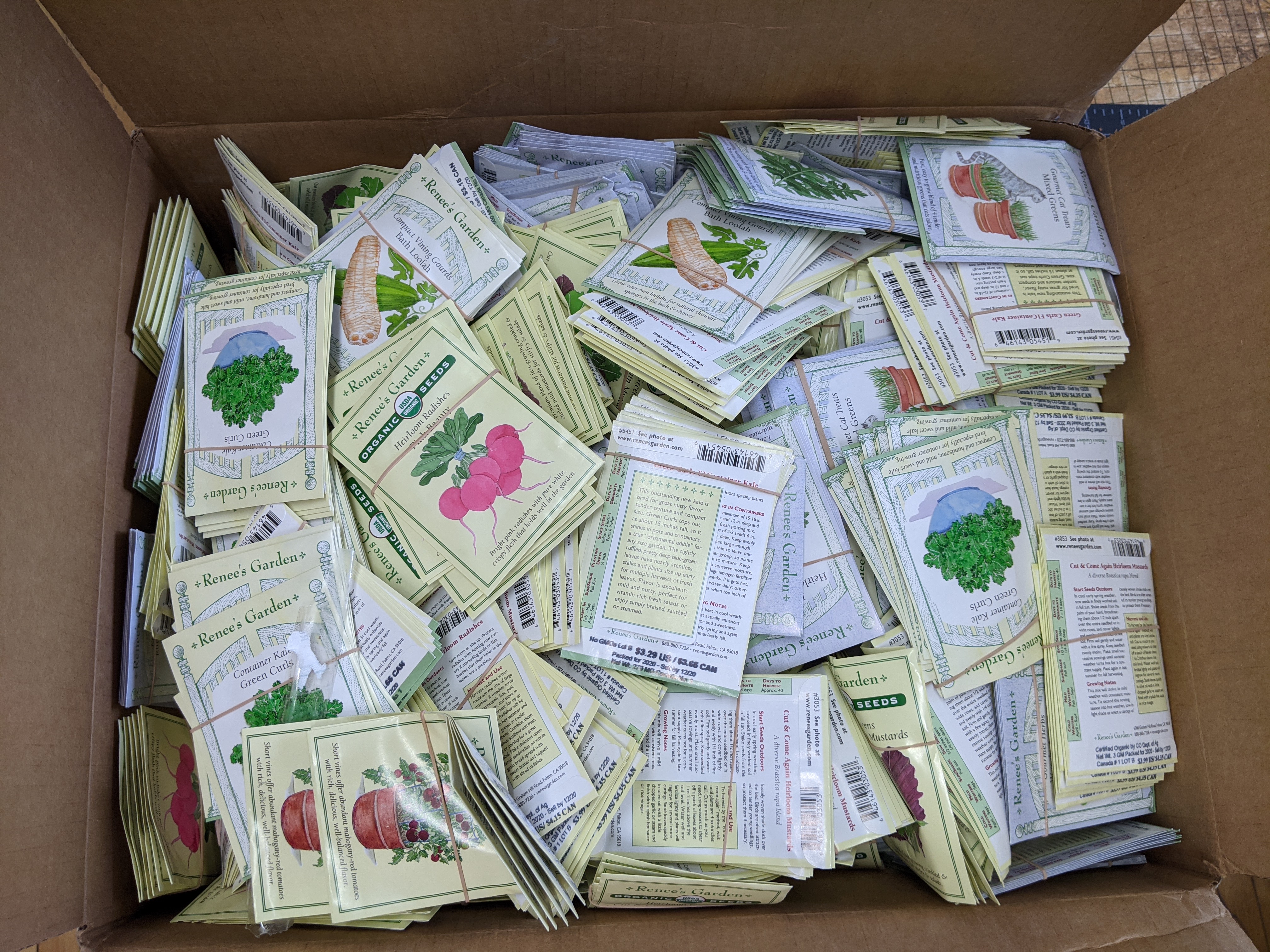 Thank you to the generous seed companies who sent us seeds from overstock, from prior years, or just from their generous hearts! And thank you to our local seed donors—you know who you are.
Cornucopia Seeds
Hart Foundation
High Mowing Seeds
Hudson Valley Seeds
Osborne Seed
Renee's Garden
Southern Exposure Seed Exchange
Sow True Seed
In addition to generous seed companies and farms, you can donate seeds you grew and saved or seed packets from past years you don't plan to use. 
These seeds are also used in our New Gardeners program and for the Eggleston Park Food Forest.
For our 8th Annual Seed Swap, we're going to be doing things a little differently this year to keep everyone safe.
You can still get free seeds and share your saved seeds (or seeds you did not use which were for growing season 2018 or more recent).
For crops which people in our area start indoors under lights (like peppers and tomatoes), or those which need to be planted out super early (think peas or fava beans), we're asking people to fill out the form below and indicate generally what you are interested in receiving. The form is due in by February 9th to allow us to process packages.
Seed will be selected on your behalf, pre-packaged and labeled with your name, and made available for pickup at the new Robert Crown branch of the Evanston Public Library. These packages will be available Feb 15–Feb 28.
Bring us your seeds to share with other when you go to the library for pickup. Please be sure these are labeled with type, variety, year grown. And please review your package upon receipt and return to the librarian any seeds you received which you do not wish to grow. (Please do not bring us squash seeds from either home-grown or market-bought squash or others which would easily cross; do not bring us seeds from hybrids you grew. Why? See this Primer article and Digging deeper)  
Robert Crown Library Hours
Sunday & Friday
1 pm – 6 pm
Monday
3 pm – 8 pm
Tuesday & Saturday
10 am – 3 pm
Wednesday & Thursday
Closed
We will do our best to accommodate your requests. Supplies are limited and we ask you to limit requests to 10 packets for individuals. We will fill requests on a first-requested, first-served basis.
We plan to hold another swap for main-season, direct-sow crops in early April. The current plan is to host more than one event in a few different neighborhood parks. But we may also come back to this form-request method.
We hope you will share any extra seedlings you have grown inside when you come to the April seed swap! That way we can share your plants with others in the community.
And don't forget to "plant an extra row" this year and donate produce to the Produce Sharing program all summer. Our local food pantries really want local, fresh, home-grown produce! It's so easy to harvest extra and bring it to our community-garden locations and drop the produce in our coolers. We get it to those in need.
Dozens of vegetable and flower types and hundreds of varieties, including unique heirlooms and locally saved seeds are available for free to encourage people in Evanston to grow their own food and plant for pollinators.