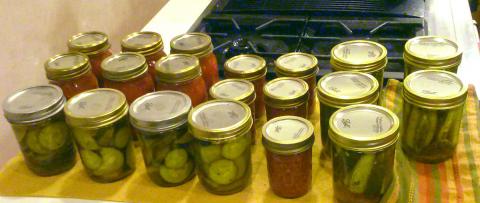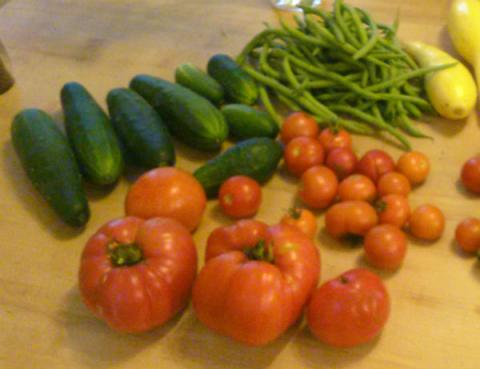 Now that we have all these beautiful tomatoes and nearly perfect cucumbers, what are we supposed to do with them? Have you already given your neighbors as many as they will take? Do you make your weekly contributions to the Food Pantries?
What about preserving your harvest? If you didn't have the chance to attend one of the canning workshops at the Downtown Farmer's Market this summer, there are lots of online resources available to walk you through the basics from freezing and drying to pickling and canning. Always select the highest quality fruits and vegetables for preserving. Here are some highlights:
Freezing works best for gardeners with lots of freezer space! The faster the produce freezes, the better your results, so don't overfill the containers, and place your containers against the surface of the freezer until it is frozen. You can re-arrange once the container is frozen. Cook without thawing. More information is available here from the University of Georgia.
Pick your vegetables—it is best to do this in the cool of the morning.

Wash your vegetables

Blanch them either in boiling water, or steam. Microwave blanching is not suggested.

Cool the vegetables in cold or ice water and let them drain well

Put them in their freezer container. Do not use regular jars not intended for canning because they might break.

Label your packages with the name of the vegetable and date
Try drying if you have a dehydrator. While it is possible to dry foods in an oven, maintaining the proper environment is difficult as most ovens do not maintain consistent temperatures at low settings. The basic components of drying are listed, and for more information visit the University of Georgia Extension website.
Enough heat to draw out moisture without cooking

Dry air

Adequate air circulation
Pickling is not just for pickles! You can pickle fruit, vegetables, make relishes, and, of course, make pickles. When pickling, be sure to follow a trusted recipe. Things like the type of salt and acidity of your vinegar matter, so be sure to check before you buy your ingredients. Use canning jars; do not reuse commercial jars as they might break during processing. It is suggested you use new canning lids each time; these should vacuum-seal within a few minutes of removing from processing. Be sure to check that your jars are sealed about 24 hours after processing. If the lid is still "popped" (clicks when you push on the top indicating it has a broken vacuum seal), you should eat or refrigerate the food and treat it as you would fresh, unpreseved foods. Step by step instructions are available here.
Canning is for gardeners who want to preserve their harvest long term. With a process similar to pickling, be sure to follow the directions for your particular vegetable or fruit. Some produce with high acid content (like tomatoes) can be canned in a boiling water bath. Low acid foods generally need a pressure canner.